Company History
Beginnings…
The company was founded by Godfrey Hayes in the early 1980s. Initially 'Replica Railways' was a brand conceived to promote the transfers that had been developed for repainted and re-branded models sold through Hayes' company, Railwayania.
At the time, Hayes felt that there were few proprietary brands available for modern image models so a decision was made to contact a decal manufacturer to produce the images to the required specifications. The first transfers produced were of the 'waterslide' type. However, when a demonstration was made from a local company who produced 'rub-down' transfers, it was decided that the lack of carrier film was a huge step forward in the application and quality of the images and a range of numbers and logos were produced.
Replica Railways then began to produce a wide range of both 'waterslide' and 'rub-down' transfer images in 'OO' and in 'N' gauges.
Ready To Run Models
In 1983 Palitoy made a conscious decision to withdraw from the model railway market. One reason given was that viewed globally, other lines produced by Palitoy (Action Man, Star Wars) could be sold all around the world – models of U.K outline railways did not have a wide marketing appeal.
Hayes contacted Palitoy in 1984 to ascertain the future of the 'Mainline' brand and a sales prospectus was received. The document showed all the stock holding and ownership of all the tools and dies: tooling to produce the main core of the 'Mainline' range was owned by a Hong Kong company, Kader.
A meeting was arranged with the financial director of Palitoy who advised Hayes that Dapol Model Railways were intending to purchase all the remaining 'Mainline' stock and any tooling that had been acquired by Palitoy on the acquisition of 'Airfix'.
Through the research of the existing Mainline brand and range Hayes found information that Palitoy had in fact mused over calling their model railway range 'Branchline' or 'Replica Railways' before eventually choosing the 'Mainline' name.
Hayes made a telephone call to one of the sales directors at Kader, in Hong Kong. Hayes enquired about their plans for future production but received no comments, only that Kader were unaware that Palitoy were withdrawing from the model railway market.
Following the telephone call a telex (!) was swiftly sent to Kader asking again as to their plans for future production of UK outline model railway items, underlining the fact that Palitoy were not intending to continue with the 'Mainline' range.
A few months passed without reply, then a telex arrived inviting Hayes to the Nurenberg Toy Fair in February 1985 to meet with Kader representatives on the Bachmann stand. The meeting took place and ended with Kader stating that on return to Hong Kong they would discuss the possibility of supplying Replica Railways with the products from their tooling.
In May another telex arrived inviting Hayes to Hong Kong for further discussions. Hayes arrived at the Kader offices and after a couple of hours of discussion a 'gentleman's agreement' was made that Kader would supply Replica Railways with products from their tooling, which had been used to produce models for Palitoy – as 'Mainline'.
Once back in the U.K a business/financial plan was drawn up and a location for the new business was chosen in Lambourn, Berkshire (the factory unit was actually on the site of the old station). During this time Replica Railways prepared a 'five year production plan' of proposed brand new model railway products – this report was eventually submitted to Kader in 1987.
Twenty-four years after it was written, this plan makes for some interesting reading… read it here:5 Year Plan 1986 - PDF 3Mb


By September 1986, production had commenced and products were shipped to the U.K and were ready to be put on the market as Replica Railways. The first items to be produced included 11001 Pannier Tank Locomotive, 12101 BR SR RB and three 7-plank wagons (13201, 13202 & 13203).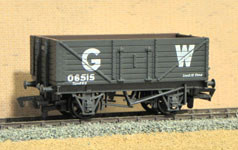 An advertisement that informed retailers and the public of these new arrivals was printed in the October issue of the 'Railway Modeller'.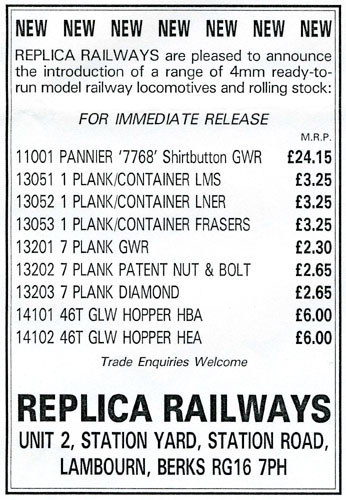 Upon seeing this advertisement, Dapol Model Railways took legal action against Replica Railways as they were under the impression that they had purchased the rights to all the items produced from the Kader tooling by default of purchasing the 'Mainline' brand. The outcome of this legal action was that Replica Railways had to issue an acknowledgement that would be enclosed with certain models that Dapol's permission was granted for Replica Railways to market these models.


The preparation and research for this court case also helped to identify and catalogue all the individual tools that were the intellectual property (i.e. owned) by Kader.
The court case settled, Replica Railways was then free to supply their products to retailers.

In 1987 Catalogue #1 was issued – view a PDF copy here:
For those of you who have noted the alternate branding on the Replica Railways products produced by Kader: a decision was made (with agreement from Kader) to brand the products 'Bachmann' to potentially enable sales of the products in the USA.
Replica Railways supplied drawings for alternate liveries and variations to be applied to the items produced by the existing tooling. Initially priority was given to the current rolling stock of the time – 'Intercity' and 'Network SouthEast' liveries for coaches and BR 'Railfreight' for wagons.
Replica Railways also improved upon the details of existing items, these included: the addition of 'in-line' brake shoes to wagons; correction of imperfections on both the LMS/BR Vestibule and Collett coaches; detailed amendments to produce a new Class 45 bodyshell; drawings to complete tooling for the Modified Hall Locomotive; and a set of drawings to produce a complete brand new model – the Mk1 BG Coach.
In 1989 Catalogue #2 was issued:
In 1989 Kader informed Replica Railways that they intended to market all U.K model railway products under the Bachmann brand and offered Hayes the position of managing director of the new company. This offer was declined as Hayes stated that he had founded Replica Railways as an independent company and felt that in the five years Replica Railways had established a standard for high quality and accuracy as well as an extensive product base.
Kader manufactured ready-to-run items for Replica Railways until 1991. The last items produced were the three Modified Hall locomotives, three Standard Class 4MT and the new Mk1 Corridor First Open and Brake Composite coaches in various liveries. Kader continued to supply Replica Railways with production spares until 1993.
At the time of Kader ceasing manufacture for Replica Railways they had finalised the brand new tooling for the Mk1 57ft Gangway Brake Coach – produced from Replica Railways' drawings. Another Chinese company completed the ready-to-run production of the 'BG' coaches and these were released in thirteen different liveries.
Replica Railways Product Archive: PDF lists all ready-to-run products produced – view and download a copy here: Production Archive - 135Kb
U.K Manufacturing
From 1994, Replica Railways, although no longer producing the prominent 'boxed' items of the past continued to develop and produce a range of injection moulded plastic spares and accessories in the U.K as well as expanding their range of transfers.
In 1997 with the hand over of Hong Kong to the Chinese and on the advice of the Chinese manufacturer producing the BG coaches – Replica Railways moved all of their tooling to the U.K. This included tools to produce two of the Mk1 64ft coaches (FO & BCK), the Mk1 57ft BG and the 'Private Owner' Wagon Container. Replica Railways also moved its business premises from Lambourn to its current location in Cheney Manor, Swindon.
In early 2000 a decision was made by Hayes to explore the possibility of producing a ready-to-run item in the U.K. Initial thought was to produce the Mk1 stock from the tooling brought back from China in 1997. Direct competition from Bachmann, Hornby and Lima producing the same or similar items made Hayes look for a product that would have moderate market appeal though would be popular enough to warrant the cost of tooling.
Measurements were taken and basic plans were drawn to produce the 'Super BG' (NBA) before being abandoned upon learning of Bachmann's intention to produce the vehicle.
At the time TPO rolling stock was popular: Lima were producing Post Office Res liveried rolling stock, Bachmann had announced the Super BG vehicle – so sticking with the theme, Hayes made the decision to produce another type of TPO vehicle.
The first U.K ready-to-run item produced by Replica Railways was the NAA Propelling Control Vehicle (PCV) in 2002. Three liveries were produced including the company's first U.K limited edition – the EWS liveried PCV limited to 150 pairs.
The PCV units sold very well prompting Hayes to review other designs that had been 'drawn up' and could be considered for the next U.K release. In 2004 Replica Railways commenced production of their BR SR 3-Car Suburban Coach Sets based upon the BR Mk1 designs that ran out of Exeter . These sets were the first coaches to be marketed in authentically produced running and set numbers.
At the time of writing: currently in production is the BR SR Motor Luggage Van (MLV) / Class 419 that ran on the boat trains to Dover and later on as yard 'shunters' and on other various sundry duties. This release will mark Replica Railways' first 'powered' ready-to-run item since 1992.
J F Perry
March 2010